Obesity: Unhealthy 'buy one get one free' deals targeted
"Buy one get one free" deals on unhealthy food will be banned as part of the government's bid to tackle obesity in England.
The plan also includes restrictions on where foods high in fat and sugar can be promoted in-store and new rules for displaying calories on menus.
A ban on junk food adverts before 21:00 has been confirmed – for the whole UK.
Boris Johnson said the plans would help "reduce our health risks and protect ourselves against coronavirus".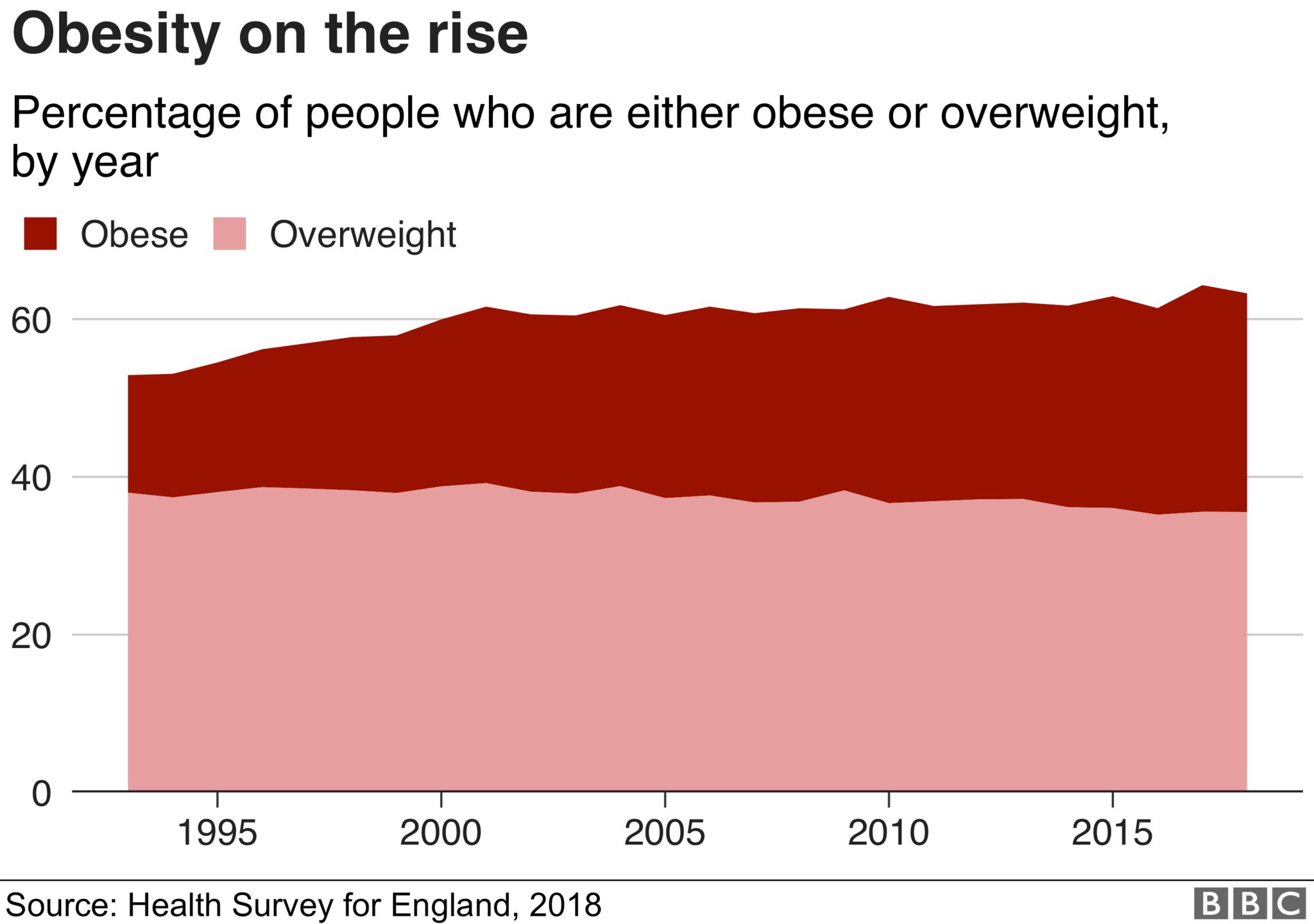 The prime minister has unveiled the strategy amid growing evidence of a link between obesity and an increased risk from Covid-19.
Government statistics showed nearly 8% of critically ill patients in intensive care units with the virus have been morbidly obese, compared with 2.9% of the general population.
The other measures being taken are:
A national campaign to help people lose weight and eat more healthily after the "wake-up call" of coronavirus
A consultation on whether to stop fast food adverts online altogether
A review of traffic light labeling on food and drinks sold in shops
Consultation on making calories labeling on alcohol drinks mandatory
Greater incentives for GPs to tackle excess weight, including the use of apps and exercise-on-referral
Labeling of calories on menus will apply to any restaurant, cafe, or takeaway chain with more than 250 employees, and another new consultation will be launched around plans to provide the same information for alcoholic drinks.
The move marks a change in stance by the prime minister, who has previously criticized levies on foods high in salt, fat, and sugar – and described his views on tackling obesity as "libertarian".
But Mr. Johnson's experience in intensive care during his treatment for Covid-19 is thought to have contributed to his changing position.
Writing in the Daily Express, he said: "We all put things off – I know I have. I've wanted to lose weight for ages and, like many people, I struggle with my weight.
"I go up and down, but during the whole coronavirus epidemic and when I got it too, I realized how important it is not to be overweight."
If implemented this will mean radical changes to the way food is marketed.
Most of the proposals were first set out in a policy paper in 2018 and put out to consultation before getting stalled.
The key is how businesses react this time, having previously been against the measures. The Food and Drink Federation has again given a hostile response.
But what about advertisers whose freedom to promote some food products will be severely limited?
A doyen of the industry Sir John Hegarty has come out in favor of a ban on TV ads of unhealthy food before the 9 pm watershed. He said there was a growing health crisis.
Much of the drinks industry has already accepted the need for calorie labeling.
Just as Boris Johnson and other Conservative politicians have moved from a libertarian non-interventionist approach to a call for action on obesity, the business lobby could be shifting as well.
Sue Eustace, director of public affairs at the Advertising Association, said the "extreme" and "unnecessary" measures would have little effect in reducing obesity, and warned they could have "wide-ranging ramifications" for food businesses and online publishers trying to financially recover from the pandemic and the lockdown.
"We have some of the strictest [advertising] rules in the world already and children's exposure to a high fat, salt, and sugar adverts on TV has fallen by 70% over the last 15 years or so, but there's been no change to obesity, so we don't think these measures are going to work."
She warned that the measures could affect a "whole range" of household products that people do not necessarily view as junk food, and questioned whether this would restrict businesses like local fish and chip shops from putting their menus online for customers.
source: https://www.bbc.com
---
---